We believe our Diet Protein is a superior tasting protein shake with Green Tea Extract, L-Carnitine and minerals. Our formula is a low-sugar, high-protein shake made with some of the best complete biological value proteins (Whey and Casein), but without Soy protein!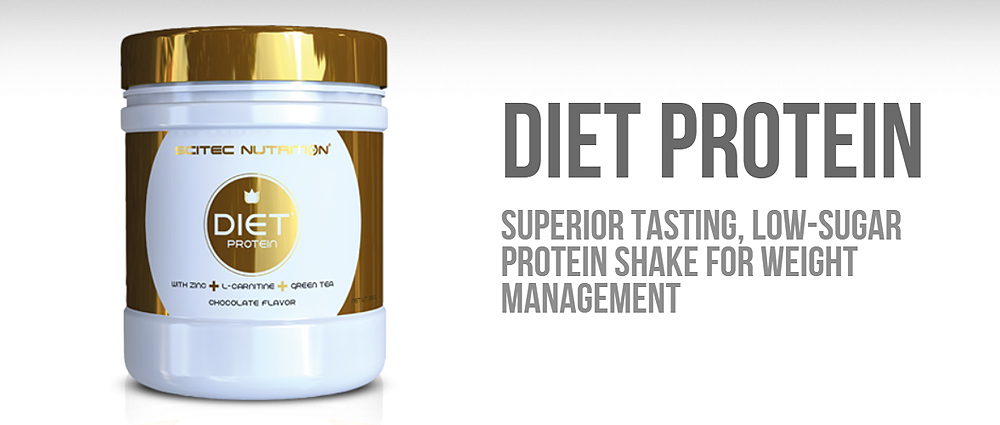 Diet Protein contains inulin fiber, which is water soluble, but resistant to digestion and it feeds the healthy intestinal microflora.

The protein in Diet Protein product contributes to the maintenance of muscles and also to the maintenance of normal bones*.
Casein provides the essential Branched-Chain Amino Acids (BCAAs) and L-Glutamine, the most abundant free amino acid in human blood. Both Whey and Casein are so-called complete proteins, because they provide the body with all the necessary types of amino acids, including the 9 amino acids the body cannot synthesize and must be supplied by the diet (i.e. Histidine, Isoleucine, Leucine, Lysine, Methionine, Phenylalanine, Threonine, Tryptophan, Valine amino acids).

Diet Protein contains Green Tea extract, Conjugated Linoleic Acid (CLA), L-Carnitine, along with Zinc, Iodine, Vitamin E and Chromium. Green Tea extract supports fat oxidation thus helping in weight loss and weight management. Zinc contributes to normal macronutrient metabolism; and Iodine contributes to the normal production of thyroid hormones, to normal energy-yielding metabolism and to the maintenance of normal skin*. Vitamin E contributes to the protection of cells from oxidative damage. Chromium contributes to normal macronutrient metabolism and to the maintenance of normal blood glucose levels.

Diet Protein is suitable even for sensitive lactose intolerant consumers due to the presence of a Lactase Enzyme!
Recommended Usage
Mix 1 serving (30 g) in 300 ml water and consume daily after a workout or replace one meal with it.