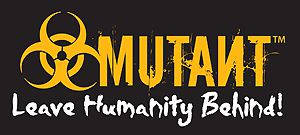 Mutant Whey (908g)
Whey (908g) - Triple Chocolate
There are not enough products in stock
Tax included
Fast becoming regarded as the ULTIMATE whey protein blend, MUTANT WHEY is a unique 5-Stage Whey Protein that triggers noticeable muscle growth and increases nitrogen retention. Yes, whey protein helps you grow — but MUTANT WHEY helps you grow BIGGER and FASTER.
Description

Recommended Usage
Mix 2 level scoops with 340-454 ml of cold water, shake vigorously for 15-25 seconds.
Customers who bought this product also bought:
Female Vitamins
Active Woman (60ct)
Modern and health-conscious woman: the role model of our age spending enough time for sports, outdoor activities, chooses bicycle instead of driving, takes care of her own health - that's why she chooses Active Woman which contains vital vitamins and trace elements with emphasis on hair, nails, and skin components.
Shakers
Blender Shaker (700ml)
Take your Mutant supplements on the go in this tough Mutant Nation Blender Shaker!- 700 ml Shaker Cup with logo.- Yellow lid and burgundy base.