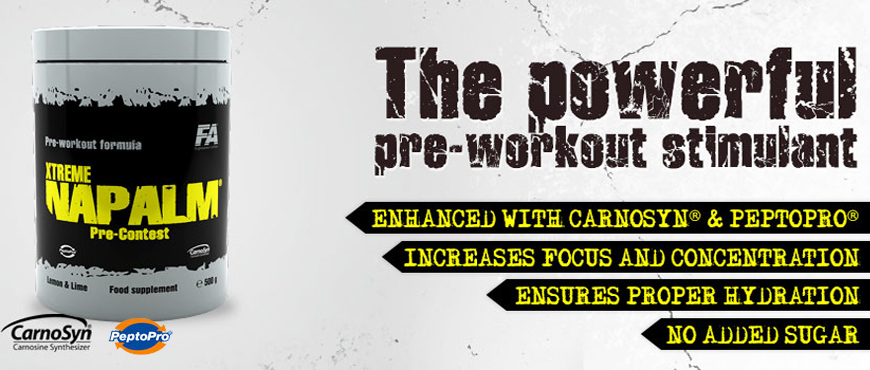 Xtreme Napalm® is a powerful highly advanced pre-workout stimulant. It was designed especially for the most effective preparation before intensive strength or endurance training sessions. Xtreme Napalm® starts working just a few minutes after taking the first dose and gives strong feeling of all body tissues excitation. Arginine and beta alanine delivered by Xtreme NO-Volumizing Complex enhance nitric oxide (NO) release from epithelial tissue which dilates blood vessels accelerating nutrients and oxygen transport to working muscles and giving the strong feeling of "perpetual pump" during all training session.

Xtreme Napalm® Pre-Contest does not provide any carbohydrates and therefore can be used by all active people with a limited carbohydrates supply in the diet. Xtreme Napalm® Pre-Contest is perfect choice for anyone who builds fat free mass in the pre-contest period.
Recommended Usage
Mix 1 scoop of powder (~5,7 g) with 250 ml of water or juice and consume 30 minutes before workout. Do not exceed the recommended daily dose.