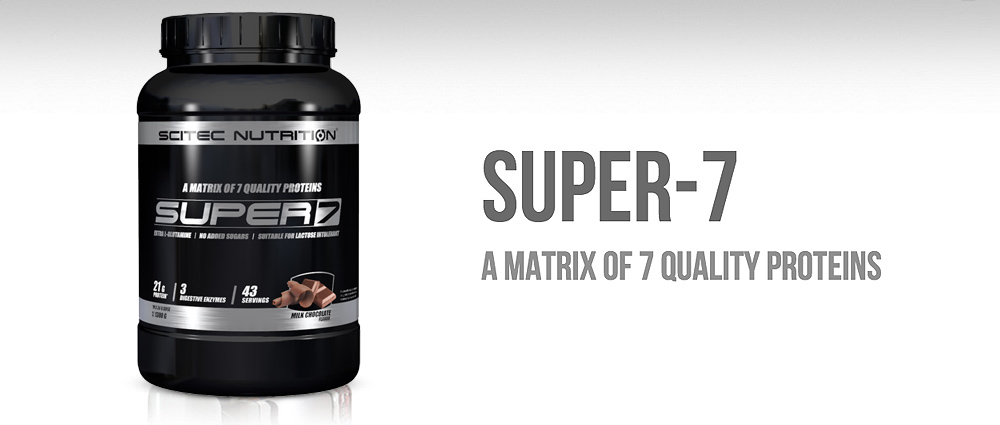 It includes ultrafiltered milk protein isolate providing undenaturated micellar casein and whey in natural ratio. Our formula also provides the patented PeptoPro® protein hydrolysate! PeptoPro® is enzymatically broken down so it mainly consists of small amino acid peptides ("chains").

Scitec Nutrition SUPER 7 provides the complete amino acid spectrum, including all the essential aminos. These 9 amino acids (i.e. Histidine, Isoleucine, Leucine, Lysine, Methionine, Phenylalanine, Threonine, Tryptophan, Valine) are considered essential for life, because the body cannot synthesize them.

What's great about SUPER 7 is the addition of several extra ingredients. One group includes essential fatty acids, like Conjugated Linoleic Acid (CLA) and flax seed oil, which is a source of Alpha Linoleic Acid (ALA). In the other group of active ingredients, we have the digestive enzymes Bromelain and Papain! To top it all off, SUPER 7 is made without aspartame and has a superb flavor and creamy texture! It is also great for night-time use.

Scitec Nutrition SUPER 7 has a high proteincontent and proteins contribute to the maintenance and growth of muscle mass and also to the maintenance of normal bones.
Recommended Usage
Mix 1 serving (30 g) in 300 ml water, milk or any other liquid per day. Best time to use is after workout.