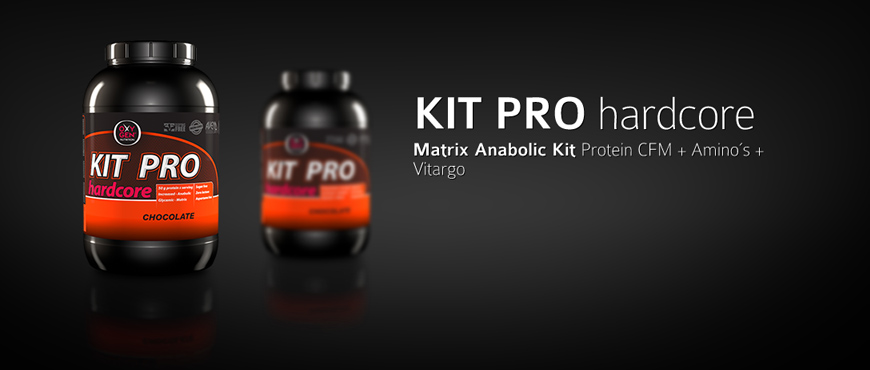 KIT PRO Hardcore was designed with whey protein for rapid absorption, to fit its use before, during and after training, as indicated by the latest scientific research, to achieve maximum development. As is standard in our products Oxygen Nutrition will not find aspartame, sugar or lactose.Besides all this, Anabolic Matrix formula contains specially formulated for people with intense muscular and big goals for improvement. Begin to experience an increase in muscle recovery and unknown until now.This product does not contain any doping substance.

Doping Free.Contains a source of Zinc and Magnesium unmatched, which together with taurine and ornithine, multiply your anabolic growth.

Components:
Maltodextrin (low-speed) WPC whey protein con­cen­trate, fructose, Vitargo (starch mo­le­cu­lar weight from 500.000 to 700.000), maltodextrin, dextrose, Oats (Avena sativa L.), L-Glutamine, Glutamine Peptide, Creatine, Taurine, Glycine, L-Arginine AKG, Cocoa, Citrulline, L -Leucine, L-Isoleucine, L-Valine, Ornithine, magnesium gluconate, Potassium gluconate, Vitamin C (L-Ascorbic Acid), Zinc Gluconate, Vitamin B3 (Ni­co­ti­na­mide), Vitamin E (d-alfa.tocoferol Acetate), Vitamin B6 (pyridoxine hydrochloride), Vitamin B2 (Riboflavin), Vitamin B1 (Hydrochloride thiamine), Vitamin B9 (pte­roil­mo­no­glu·­mico acid), Vitamin B12 (Cya­no­co­ba­la­min), Aroma (Aroma of vanilla), Sweetener (sucralose) and coloring (Beta-carotene).
Recommended Usage
Mix 4 scoops (80g) in 300 cc of water. Take 1 to 2 times a day.
Warning: Food supplements should not be used tu subtitute a balanced diet. Store in a cool and dry place. Keep out of reach of children.